Don't feel like gathering around the campfire? Make this treat at home, and you will feel like you are in the woods!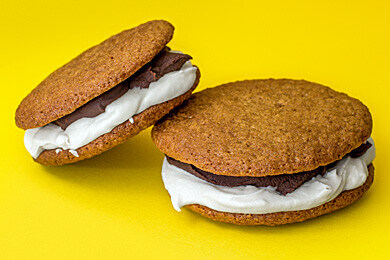 Ingredients:
The cookie
1 3/4 Cup Graham Cracker Crumbs
1 Cup and 2 Tbsp Flour
1 1/2 teaspoon Baking Powder
1/2 Cup Whole Milk
2 tsp Vanilla
1 tsp Baking Soda
1 tsp White Distilled Vinegar
1/2 Cup Butter (room temp)
1 Cup Brown Sugar
2 Eggs
The Frosting
3 Cups Powdered Sugar
1/2 Cup Butter (room temp)
1 Cup Fluff
1/4 Cup Whole Milk
1 tsp Vanilla
The Chocolate
1 14oz bag Semi Sweet Chocolate Chips
1/4 Cup Heavy Cream
The Method:
In a medium bowl, combine Graham Cracker Crumbs, Flour, and Baking Powder. Set aside.
In another medium bowl, combine Milk, Vanilla, Baking Soda and Vinegar. Sir and set aside.
In yet another medium bowl, (sorry about the dishes!) cream together the butter and brown sugar with a hand mixer. After about 2 minutes, add eggs one at a time while still mixing. Add Graham mix and milk mix and combine until all smooth.
Transfer batter to a Ziploc bag and cut a small corner out of the bottom. Pipe the batter on parchment lined cookie trays in about two inch circles. They double in size when baked, so leave room between the cookies. Makes about 26 cookies
Bake at 375 for 8-10 minutes. Remove from oven and allow to cool for a few minutes before transferring the cookies to a wire rack to cool completely.
For the frosting, combine all ingredients with a hand mixer until smooth. Allow to chill in the fridge for a couple of minutes to set up
For the chocolate, place chips and cream in a microwave bowl. Microwave for 30 seconds at a time, until melted, stirring in between microwaving.
Spread frosting on the bottom of one of the cookies, top with chocolate and another cookie.
Enjoy!