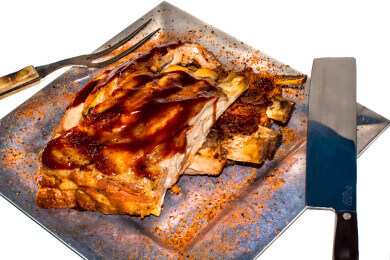 Ingredients:
1 Rack Pork Spare Ribs
1 Bottle of your favorite BBQ Sauce
1 Tbsp Salt, 1 Tsp Pepper, 1 Tbsp Chili Powder, 1 Tbsp Garlic Powder
Method:
Rub the ribs with the spices and slather with sauce on both sides. Place ribs standing up in a slow cooker sprayed with food release. Cook on high for 4 hours.
Remove from slow cooker, top with additional sauce, cut and serve!