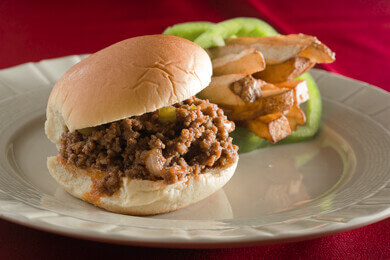 A classic meal that's kid friendly for back to school!
Ingredients:
1 1/2 Pounds Ground Beef
1 Green Pepper Diced
1/2 Medium Yellow onion Diced
1 Cup Ketchup
1/2 Cup Brown Sugar
Salt and Pepper to Taste
Burger Buns
Method:
Brown the beef and drain the fat. While the fat is draining, cook the peppers and onions in the pot, maybe just for a couple of minutes.
Add the beef back to the pot and also add the brown sugar, ketchup and seasonings
Simmer for about 20-30 Minutes stirring often so it doesn't burn. Serve on burger buns to a happy family!
Makes 8-10 Sandwiches