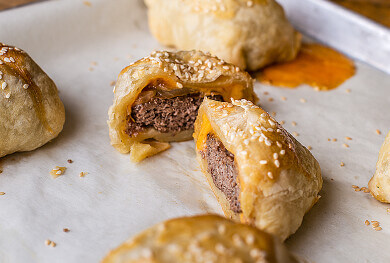 Ingredients:
1 Pound Ground Beef
1 Tbsp Worcestershire Sauce
1 Tsp Montreal Steak Seasoning
1 Tsp Onion Powder
1/2 Tsp Salt
1/4 Tsp Black Pepper
1 Onion Sliced Thin
2 Tbsp Butter
1/2 Tsp Salt
8oz Sharp Cheddar Cut Into Chunks
1 Package Frozen Puff Pastry Dough
1 Egg
Sesame Seeds
Method:
Combine beef, Worcestershire sauce, Montreal, onion powder, salt and pepper. Make into 8 small patties
In a large skillet, sautee onions and butter with salt until golden brown.
In a separate skillet, cook the sliders. Drain from fat once fully cooked.
Cut puff pastry with a pizza knife into 8 squares. Place cheese cubes in the center of the square, top with onions then the burger. Fold the corners of the the pastry over the burger, pinch the sides together and shape into a ball with your hands (like a snowball).
Scramble the egg and brush over each pastry. Top with sesame seeds, and bake at 350 degrees for 25 minutes or until golden brown.
Serve and enjoy!