Need to spice up your dinner table?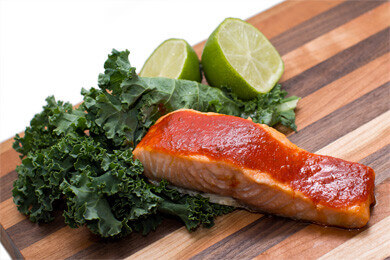 Ingredients:
1 1/2 Pounds Fresh Salmon Filet
1 Cup Siracha Sauce
1 Tbsp Honey
Zest from 1 Lime
Juice from 1 Lime
Salt
Oil
Method:
Slice salmon into desired portions. Combine Siracha, honey, lime juice and zest. Set aside. In a large skillet, heat oil. Salt the fish and brown one side (the side without the skin) Transfer the fish to a baking sheet and top with Siracha mixture. Bake at 350 degrees until fish is fully cooked, 140 degrees internal temperature.
Serve and Enjoy!