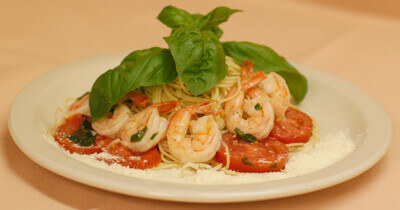 Ingredients:
About a pound of raw shrimp (peeled and devained)
1/2 a pound of Angel Hair Pasta
3-4 Roma (plum) tomatoes sliced
About a Tablespoon chopped fresh garlic
About a Tablespoon Fresh basil chopped
Salt and pepper to taste
1 Tbsp Olive Oil
1 Tbsp Butter
1/4 Cup White cooking wine
Parmesan Cheese if desired
Method:
If the shrimp is frozen, thaw and dry.
Cook pasta for 5-7 minutes in boiling water. Drain and cool. Toss with oil to coat and refrigerate.
In a saute pan, heat olive oil. Saute garlic for about 2 minutes being careful not to burn. Add shrimp and cook on each side for about a minute. Add white wine and flame so alcohol is burned off. Add tomatoes and reduce liquid for about a minute. Add basil, salt and pepper and butter. Remove from heat. Stir in butter until melted. Add in pasta until hot. Finish with Parmesan cheese if desired!