Ingredients: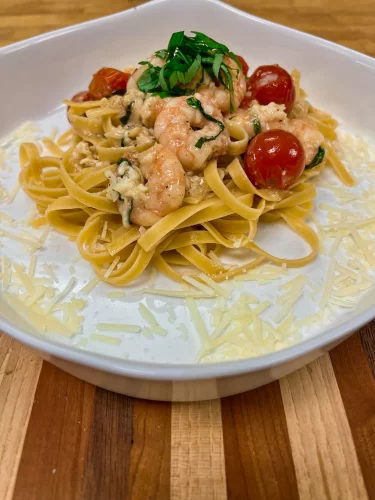 4 Cloves of Garlic, Minced
4 Tbsp Butter
1 Pound Shrimp, Peeled and De-Veined
1 Tsp Salt
1/2 Tsp Black Pepper
1 Cup White Cooking Wine
1 Pint Cherry Tomatoes
Juice From One Lemon
Additional 2 Tbsp Butter
1/4 Cup Shredded Parmesean
1 Tbsp Fresh Chopped Basil
1 Pound Cooked Linguine
Method:
In a large skillet, melt the butter and sautee the garlic over medium low heat for about 3 minutes being careful not to burn. Add in the shrimp ans season with salt and pepper. Reduce heat to low and simmer until shrimp is pink. Pour in the wine and tomatoes, cook the sauce until the alcohol is cooked out. If you prefer, use alcohol free wine! Remove from the heat and stir in the lemon juice, butter, parm and basil. Stir until the butter is melted and add in the linguine.
Serve and enjoy!