Ingredients: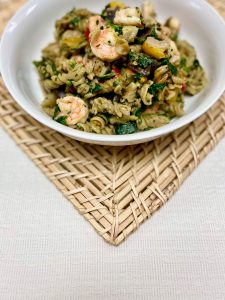 1 Pound Raw Frozen Shrimp, Peeled and Devained
2 10oz Packages Birds Eye Rotini Alfredo w/ Sauce
16 oz Package Mediterranean Grilled Vegetables or Similar
2 Cups Frozen Chopped Spinach
2 tbsp Olive Oil
Salt and Pepper
Method:
Thaw and drain the shrimp. Heat the oil in a large skillet and add in the veggies, pasta and shrimp. Season with salt and pepper. Stir often over medium high heat until the shrimp is pink, about 15 minutes.
Serve and enjoy!