Ingredients: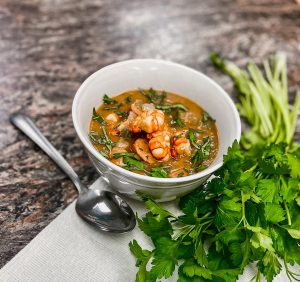 1/3 Cup Canola Oil
4 Tbsp Butter
3/4 Cup Flour
4 Garlic Cloves, Minced
1 Cup Diced Onion
1 Cup Diced Green Pepper
1 Cup Diced Celery
4 Cups Chicken Stock
12-16oz Andouille Sausage, Sliced
1 Pound Shrimp, Peeled and Deveined, raw
1 Tbsp Cajun Seasoning
1/2 Tsp Garlic Powder
2 Tbsp Tomato Paste
Salt, if Needed
Method:
In a heavy bottomed pot or dutch oven, melt the butter with the oil. Stir in the flour and cook on medium to form a roux. Stir often over medium heat for 5-10 minutes being careful not to burn, should look similar in color to peanut butter. Add in the veggies and cook for 5 more minutes.
Increase heat to high and add in chicken stock and whisk until smooth. Bring to a simmer, stirring often. Add in shrimp, sausage, spices and tomato paste. Bring to a simmer, stirring often. Reduce heat and simmer for 30 minutes.