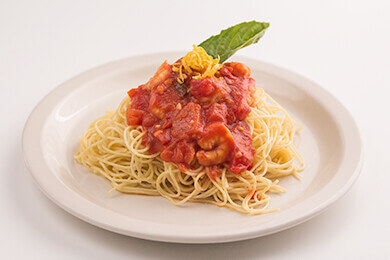 Ingredients:
1 Pound Shrimp Peeled and De-Veined
1 Tbsp Chopped Garlic
1 Tsp Crushed Red Pepper Flakes
Juice from 1 Lemon
1 Cup Chopped Roma Tomatoes
2 Cups Tomato Sauce
1 Tsp Hot Sauce
1 Tbsp Fresh Chopped Basil
1 Pound Pasta Cooked and Drained
Method:
In a large sautee pan or pot, cook shrimp over high heat. After about a minute (shrimp is not cooked yet) add garlic and pepper flakes. Cook until shrimp is fully cooked. Add tomatoes and lemon juice. Cook for another 5 minutes. Add tomato sauce, hot sauce and basil. Let simmer and reduce heat. Simmer for 15 minutes. Serve over pasta and enjoy!