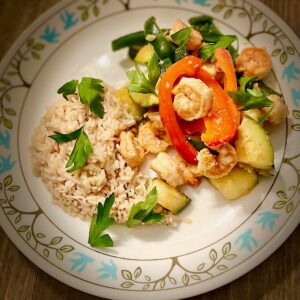 Ingredients:
1 Pound Shrimp, thawed, peeled and deveined
1/2 Tsp Smoked Paprika
1/2 Tsp Cumin
1 Tsp Lime Juice
1 Tsp Olive Oil
1/2 Tsp Salt
2 large Peppers Sliced
1 Medium Zucchini Chopped Large
3-4 Garlic Cloves
1 Cup Cooked Brown Rice
Method:
In a medium bowl, marinate the shrimp in the spices and lime juice. Set aside for later.
Heat a large skillet with olive oil and sautee the zucchini and garlic for about 5 minutes. Add the peppers in and continue to cook for another 5-10 minutes until tender. Remove the veggies from the pan and add in the shrimp. When the shrimp is cooked all the way through, add the veggies back in. Add in the rice or serve it along side.
Serve and enjoy!