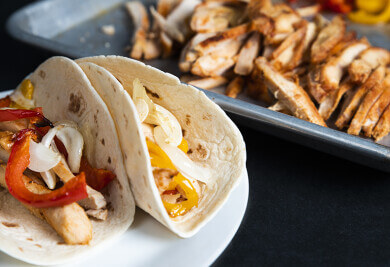 Ingredients:
1 1/2 Pounds Chicken
2 Peppers Sliced
1 Onion Sliced
1 Packet Fajita Seasoning
Method:
Slice chicken thinly or use pre cooked chicken. Arrange chicken, peppers and onion on a sheet tray. Season with the fajita seasoning. Place in oven and bake at 350 degrees for 20 minutes. Serve in flour tortilla shells with all the fixins!