A delicious salad that tastes as good as it looks!!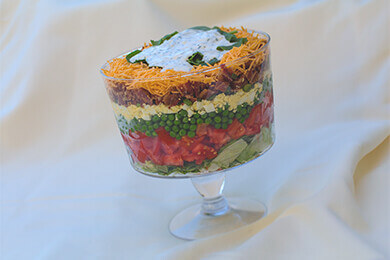 Ingredients:
1 Head Iceburg Lettuce
8 Ounces Fresh Baby Spinach
4 Hard Boiled Eggs
3-4 Roma Tomatoes Chopped
1 16oz Package Frozen Peas (partially thawed)
1 Pound Bacon Cooked Crispy and Chopped
1 1/2 Cups Shredded Cheddar Cheese
1 Bunch Scallions Chopped Fine
1/2 Cup Mayo
1/2 Cup Sour Cream
2 Tbsp Chopped Chives
1 Tbsp Cider Vinegar
2 Tbsp Sugar
Method:
Place lettuce and Spinach on the bottom of a clear glass bowl. Add the remaining ingredients around the outside of the bowl, filling the center with more lettuce and spinach.
Layer 1 Lettuce/Spinach
Layer 2 Tomatoes
Layer 3 Peas
Layer 4 Hard Boiled Eggs
Layer 5 Scallions
Layer 6 Bacon
Layer 7 Cheddar Cheese
You may need to press the layers down some as you go along
For the top (which is NOT a layer!) Combine the mayo, sour cream, chives, sugar and vinegar. This is the dressing in the salad and once its dove into, it will mix in with the layers
Serves 6-8 as a main meal