Sesame Crusted Salmon with Ginger Garlic Glaze and Wilted Baby Spinach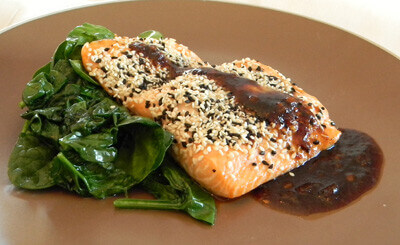 Ingredients:
Glaze:
¼ C reduced Sodium Soy Sauce
1 Cup Pineapple Juice
1 Tbsp Toasted Sesame Oil
1 Tsp Chopped Garlic
1 Tbsp Fresh Grated Ginger
Fish:
4 Salmon Filet (6oz skinless and boneless)
Sesame Seeds (about 2 Tbsp)
Fresh cracked pepper
Spinach:
Fresh Baby Spinach 6 ounces
1 Tbsp Olive Oil
For the glaze, Combine ingredients in a sauce pot and simmer until mixture becomes bubbly and thick. Remove from heat.
Method:
Pre heat oven to 350 degrees. Spray Foil lined pan and place fish on top. Season with pepper. Coat with sesame seeds and bake for about 15-20 minutes until firm.
For the spinach heat a large skillet heat oil. When oil is hot add in spinach. Turn off heat and stir for about 30 seconds until spinach is coated and just started to wilt.
Plate spinach and place salmon on top. Spoon over the glaze and enjoy!