The aroma of this dish will certainly bring everyone together!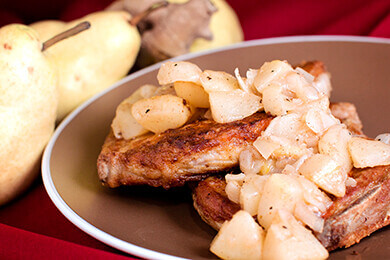 Ingredients:
6-8 Bone in Pork Chops
1 Cup Flour
1 Tsp Salt
1 Tsp Pepper
1 Tsp Paprika
Chutney
1 Cup Diced Onions
1 Tbsp Butter
Salt and Pepper
2 Large Bartlett Pears
1 Tbsp Minced Fresh ginger
1 Cup White Cooking Wine
1 Tbsp Brown Sugar
1/2 Tsp Cinnamon
Method:
In a sauce pot, cook the onions in butter over high heat for 5 minutes. Season with salt and pepper to taste. Peel and core the pears, cutting them into bite sized chunks. Add pears and ginger. Cook for another 5 minutes over high. Add white wine and bring to a simmer, then turn down the heat to medium low and let cook for 20 minutes stirring often.
Once most of the liquid is gone and the pears have started to tender, add the sugar and cinnamon. Stir to combine and cook for another 5 minutes. Remove from the heat
For the pork chops, combine the flour and seasonings in a large bowl. Dredge the pork chops in the seasoned flour, shaking off the excess. Pan sear in a large skillet with a little oil over high heat. Sear on both sides for 3-5 minutes or until fully cooked (145 degrees) Remove pork chops and plate, topping each with some chutney.