Seafood Newburg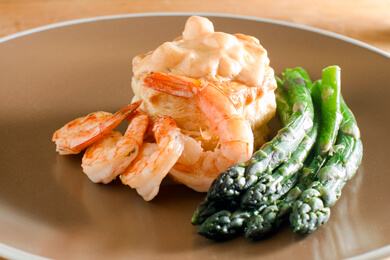 Ingredients:
1 Pound 41-50 Shrimp Peeled and deveined. tails off
1 Pound Bay Scallops
1 Package of Puff Pastry cups (in freezer section)
4 Ribs of Celery diced
1 Medium Onion Diced
3-4 Garlic Cloves Minced
1 Stick of butter
1 Cup of Flour
2 Cups Vegetable stock
1 Qt Heavy Cream
1 Bay Leaf
1 Tbsp Old Bay Seasoning
1 Tbsp Paprika
2 Tsp Salt
1/2 Tsp Black Pepper
Method:
Prepare the pastry cups as per box instructions and let cool. Remove the center of the cups.
In a large pot, melt the butter over medium heat. Sautee the onions, celery and garlic for about 5 minutes. Add flour and mix together. Add vegetable stock and mix until combined. Let the mixture come to a simmer and add the cream. Add the seafood and the seasonings. Let simmer for about 30 minutes.