Ingredients: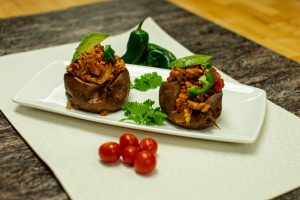 6 Medium Sweet Potatoes
Olive Oil
Salt and Pepper
1 Yellow Onion, Diced
3-4 Garlic Cloves, Minced
1 Pound Ground Turkey, Chicken or Beef
1 Tsp Cayenne Pepper
1 Tbsp Chili Powder
1 Tsp Paprika
1 16 oz jar of salsa
Toppings! Shredded Cheese, Sour Cream, Jalapenos, Avocado, Tomatoes… Etc!
Method:
Wash and pat dry the sweet potatoes and place in a bowl. Coat with olive oil and season with salt and pepper. Line a baking sheet with parchment paper and bake at 350 degrees for 45 minutes.
While the potatoes are cooking, sautee the onions and garlic in a little olive oil until tender. Add in the turkey and seasonings, stir often, breaking up the meat. Once the meat is fully cooked, add in the salsa and bring to a simmer. Remove from the heat.
Split open the sweet potatoes and stuff with the meat mixture. Top with your favorite toppings and serve!