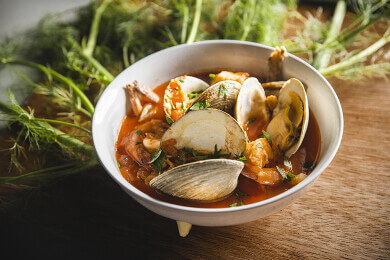 Ingredients:
1/2 Fennel Bulb, Sliced
1 Onion, Sliced
3-4 Garlic Cloves, Minced
Olive Oil
1 tsp Crushed Red Pepper Flakes
1 Cup Cooking Wine (optional)
1 28oz Can Crushed Tomatoes
1 Quart Seafood Stock
1 Tsp Fennel Seeds
Salt and Pepper
Clams, Shrimp, Crabmeat, Scallops
Method:
In a large pot, heat the oil and sautee the fennel, onion and garlic. Add the wine and cook down to remove the alcohol. Add tomatoes, stock, salt and pepper to taste and fennel seeds. Simmer for about 20 minutes.
Add in the seafood and continue to simmer until cooked.
Serve and enjoy!