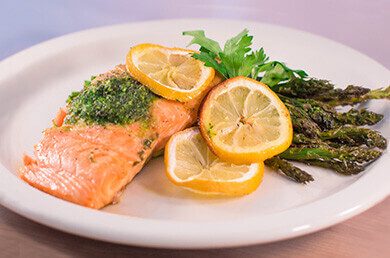 Ingredients:
2 Pounds Skinless Salmon
1 Bunch Fresh Asparagus
1 Stick of butter
1 Clove of garlic, minced
2-3 sprigs parsley minced
2-3 sprigs fresh basil minced
salt and pepper
One Lemon Sliced
Method:
Place the salmon on a sheet pan covered with foil sprayed with cooking spray. Trim the asparagus and place around the fish. Season with salt and pepper.
Combine the herbs with the butter and garlic and place it on the fish and asparagus. Top with lemon slices
Bake at 350 degrees for 20 minutes. Fish should be fully cooked through and asparagus should be tender but still have a little crunch.
Serves 4-6