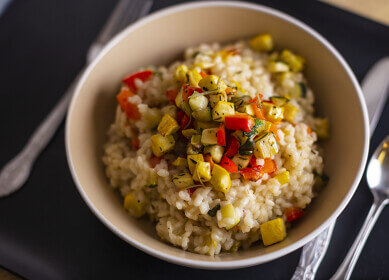 Ingredients:
1 Zucchini Small Diced
1 Yellow Squash Small Diced
1 Red Pepper Small Diced
3-4 Garlic Cloves, Smashed
Olive Oil
1 Tsp Dry Rosemary
1 Tsp Dry Thyme
Salt and Pepper to taste
2 Cups of Dry Arborio Rice
Olive Oil
3 Cups Vegetable Stock
4 Tbsp Margarine
Method:
Combine the veggies, a little olive oil and seasonings. Place them in a baking dish and roast at 400 degrees for 20-30 minutes. Veggies should be tender.
In a large pot, heat the arborio rice and olive oil over high heat. Saute for 5 minutes. Add half the stock, reduce heat to medium and stir often until all the stock is gone. Add the remainder of the stock and keep stirring until that stock is gone. Add veggies to the risotto and margarine. Fold in until margarine is melted and creamy.
You can use any veggies you'd like!