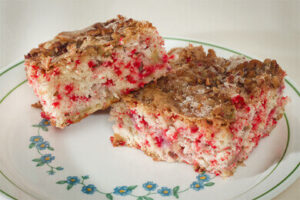 Ingredients:
1/2 Cup Butter
1 1/2 Cup Sugar
1/2 tsp Salt
1 Egg
1 Tsp Baking Soda
1 Cup sour milk or butter cream
2 Cups + 1 Tbsp flour
3 Cups Chopped Rhubarb (fine)
1/4 Cup Red Sprinkles
For the topping- 1/3 Cup Sugar 1/3 Cup Chopped Nuts (Pecans and Walnuts) 1 Tsp Cinnamon
Method:
Heat the oven to 350 degrees. Cream the butter and sugar together in a mixer. Add salt and beat in the egg. Add baking soda to the milk to dissolve. Add milk/ soda mix alternately with the flour to the batter, mixing on low speed. Stir in sprinkles and rhubarb. Pour into a greased 9″x13″ pan. Combine ingredients for the topping and sprinkle the topping mixture over the entire cake. Bake for 45 minutes or until done. Let cool completely on a cooling rack and serve!