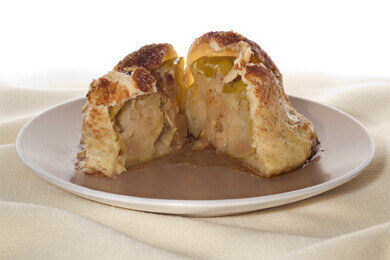 Here's the Recipe!
Ingredients:
3 Cups Flour 3/4 Cups Shortening 1/4 Tsp Salt 1 1/2 Tbsp Sugar 1 Cup Cold Butter, Cubed 8 Tbsp Cold Water
5-6 Granny Smith Apples 5-6 Tbsp Butter 5-6 Tbsp Brown sugar
1/2 Tsp Cinnamon 1/2 Cup Sugar
Method:
In a large metal bowl, combine flour, sugar, salt, shortening and butter with a pastry cutter. Add water slowly until combined. Flatten into a disk and wrap with plastic wrap and refrigerate for about an hour. Roll into a large rectangle on a floured work surface. Cut into large squares
Core the apples and pack with butter and brown sugar. Wrap and seal each apple in the crust. Combine the cinnamon and sugar and sprinkle over each wrapped apple.
Bake in a greased pan at 350 degrees for about an hour until crust is flaky and apple is tender. Serve hot and drizzle any juices on top of the apples!