Autumn is approaching! Stock your cupboards accordingly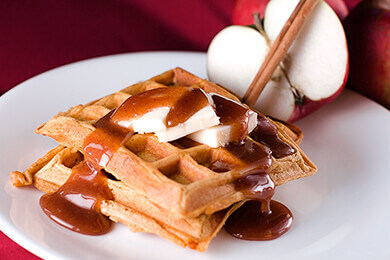 Waffle Batter
2 1/2 Cups Flour
4 tsp Baking Powder
3 tsp Pumpkin Pie Spice
1 tsp Ground Ginger
1/2 tsp Ground Nutmeg
1/2 tsp salt
1/4 Cup Packed Brown Sugar
1 Cup Canned Pumpkin
2 Cups Whole Milk
4 Eggs Divided
1/2 Stick Melted Butter
Cinnamon Syrup
1/2 Cup Corn Syrup
1 Cup Sugar
1 tsp Cinnamon
1/4 Cup Water
1/4 Cup Evaporated Milk
1 tsp Vanilla
Method:
In a large bowl, combine flour, baking powder, spices and salt.
In another bowl, combine the brown sugar, pumpkin, milk and egg yolks with a whisk until smooth.
In yet another bowl, beat the egg whites until soft peaks are formed.
Combine the pumpkin mixture with the flour mixture until well mixed. Fold in the egg whites one third at a time.
For the syrup, place sugar, syrup, cinnamon and water in a sauce pot and bring to a boil. Stir occasionally and boil for 3-5 minutes. Remove from heat and whisk in the milk and vanilla. Allow to cool slightly.
Cook the waffles in a waffle maker as per manufacturers suggestions. Top with butter and syrup and enjoy! Serves 6