It's the crust that makes this pie stand out from the crowd!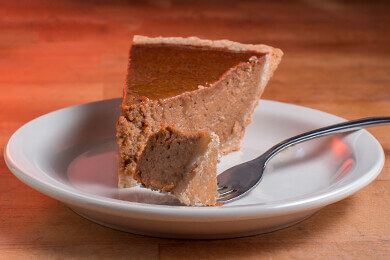 The Crust
1 1/3 Cups Butter (cubed)
1/2 Cup Shortening
4 1/3 Cup Flour
5 Tbsp + 1 Tsp Sugar
1/2 Tsp Salt
1/3 Cup Finely Chopped Pecans
1/2 Cup Ice Water
Method:
This recipe will make enough for 2 pie crusts, so make a whole batch and freeze the rest for the next time!
Combine the butter, shortening, flour, sugar and salt with a pastry cutter until crumbly and well mixed in. Add nuts and water (no ice) and kneed with your hands until the dough comes together. If the dough is still too dry, add a little more until it comes together.
Flatten into disks and wrap with plastic wrap. Refrigerate for at least half an hour
Roll out on a floured work surface until uniform. Transfer to pie pan. Preferably 9 or 10 inch
The Filling
2 Cups Pumpkin Puree (fresh or canned)
3 Large Eggs
1 1/4 Cup Brown Sugar Packed
1 Tbsp Cornstarch
1/2 Tsp Salt
1 1/2 Tsp Cinnamon
1/4 Tsp Ginger
1/4 Tsp Nutmeg
1/8 Tsp Black Pepper
1 Cup Heavy Cream
1/4 Cup Whole Milk
Method:
In a large bowl, whisk together the pumpkin, sugar and eggs until well blended. Add corn starch and seasonings, mix. Add the milk and cream and mix until well combined. Pour into pie crust.
Bake at 300 degrees for about 1 1/2 hours. Pie should not jiggle when shaked gently.
Remove from oven and let cool on a wire rack for an hour. Refrigerate for another hour before cutting into and enjoying!