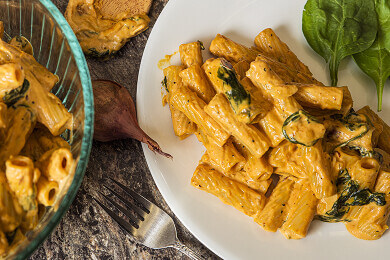 Ingredients:
1 Pound Pasta, cooked as per box directions
Olive Oil
1 Shallot, Minced
3 Cloves Garlic, Minced
2 Cups Fresh Baby Spinach
1 Cup Sliced Almonds
Salt and pepper
1 15 oz can Canned Pumpkin
1 Pint Heavy Cream
Method:
Heat a little olive oil in a large skillet. Sautee the shallot and garlic over medium high heat, stirring often. Once the garlic and shallots start to turn translucent and a little brown (about 5 mins), add the spinach and almonds. Season with salt and pepper and toss. Add in the pumpkin and heavy cream. stir together and bring to a simmer. Simmer until thicker, about 10 minutes.
Toss in the pasta, serve and enjoy!