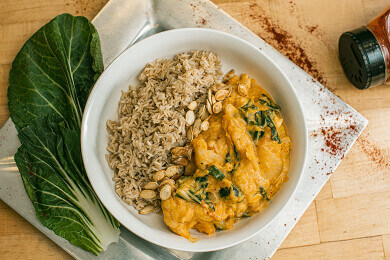 Ingredients:
1 Small Pumpkin (I used a "pumpkin pie pumpkin" about 2.5 pounds)
1 Small Butternut Squash
1 Yellow Onion Sliced Thin
2 Garlic Cloves, Minced
2 Tbsp Fresh Minced Ginger
Olive Oil
2 Tbsp Red Curry Paste
1 tsp Marjoram
1 Head Cauliflower, cut into large florets
1/2 Pound Bok Choy leaves cut into chunks
2 Cans Coconut Milk (whole)
Method:
Slice the pumpkin and squash in half and remove the seeds. Brush with olive oil and season with salt and pepper. Roast for 40 minutes and allow to cool. Scoop out the insides and puree the pumpkin and cut up the butternut squash into small chunks. Set aside.
In a large pot, heat a little olive oil over high heat and add the onion, ginger and garlic. Sautee for about five minutes, stirring often. Add in the cauliflower, curry paste and marjoram. Add more curry for a spicy-er dish! Cook for another 5 minutes and then add in the coconut milk. Reduce heat to a simmer.
Simmer for about 20-30 minutes. Once thickened, add in the pumpkin puree, squash chunks and bok choy. Allow to simmer for 5 minutes. Serve over rice and enjoy!