This delicious fall muffin is a must try!!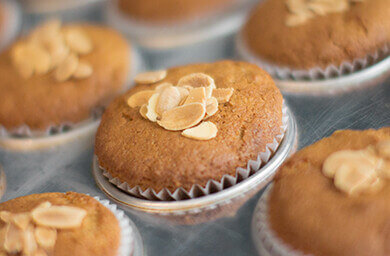 Ingredients:
1/2 Cup Toasted almonds
1 3/4 Cup Flour
2 Tbsp Baking Powder
2 Teaspoons Cinnamon
1/4 Teaspoon Nutmeg
1/4 Teaspoon Cloves
1/2 Teaspoon Salt
1 Stick of butter melted
1 Cup Sugar
1/2 Cup Brown Sugar
1/2 Cup Pumpkin
2 Eggs
1 Teaspoon Vanilla
Method:
Combine flour, spices, and baking powder in a bowl. In a separate bowl, combine sugars, butter, eggs, pumpkin and vanilla, whisk until smooth. Add half of the flour mixture to the butter mixture. Stir to incorporate. Add half of the almonds. Add in rest of flour until combined. Scoop into muffin cups. Top with remaining almonds. Bake at 375 for 15-20 minutes. A toothpick inserted in the center will come out cleanly when done!
Makes 12-18 delicious muffins!