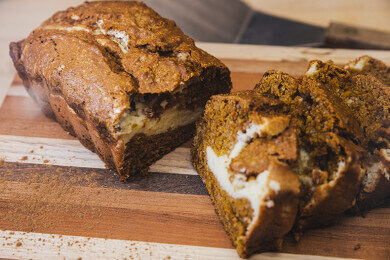 Ingredients:
Cream Cheese Filling-
1 8oz Brick Reduced Fat Cream Cheese (softened)
1 Egg (room temp)
1/2 cup Sugar
1 Tbsp Flour
1 tsp Vanilla
Pumpkin Bread:
1 2/3 Cups Flour
1 tsp Baking Soda
1/2 Tsp Salt
1 Tsp Cinnamon
1/2 Tsp Nutmeg
1/2 Tsp Pumpkin Pie Spice
1 1/2 Cups Sugar
2 Eggs
1 Cup Pumpkin
2 Sticks Butter Melted
Method:
Place all filling ingredients in a stand mixer bowl or a large bowl and beat for 5 minutes with a paddle attachment. Set aside
Place all dry ingredients for the bread in a large bowl and stir to combine. Add the eggs, pumpkin and butter and whisk together until smooth.
Spray a 9×5 loaf pan and place half the bread batter in. Spoon in the cream cheese filling over the bottom layer, then add the top layer of the bread, smoothing out the top and covering the cream cheese.
Bake at 325 for 40-50 minutes or until a toothpick comes out clean when inserted.
Allow to cool in the pan, remove and slice!