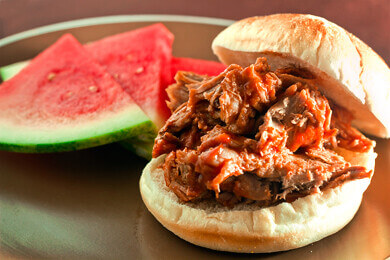 A classic to wrap up summer! Make sure you leave plenty of time to make this family pleaser!
Ingredients:
3 pounds pork shoulder (bone in)
1/2 cup cider vinegar
1 cup brown sugar
1/2 tsp pepper
1 tsp salt
1/2 tsp cinnamon
1/2 tsp paprika
1/2 tsp powdered garlic
1 cup water
Method:
Place the pork in a crock pot. Pour over the vinegar then the sugar and seasonings. Add water to the bottom of the crock pot. Cook on high for about 7-8 hours. Meat should pull off the bone easily. Remove bone and any excess fat. Put meat back in crock pot and cook for another 2 hours. Add some of your favorite BBQ sauce if desired, or serve as is!