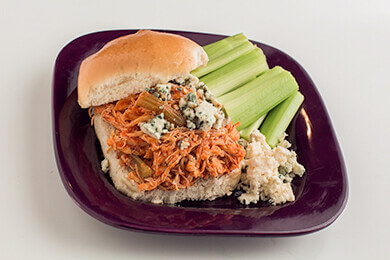 Ingredients:
1 1/2 Pounds Chicken Breast
2-3 Ribs Celery Diced
1/2 an Onion Diced
Oil
4 Cups Water
12 Oz Franks Hot Sauce
2 Tbsp Ranch Dressing Seasoning
2 Tbsp Butter
Blue Cheese
Kaiser Rolls
Method:
Place chicken, onions and celery in a large pot with a little oil. Cook on high for about 5 minutes.
Add Water to cover and boil for about 30minutes. Everything should be tender and chicken should be falling apart.
Drain liquid and pull the chicken until shredded. Add hot sauce, butter and seasoning. Bring to a low simmer for another 30 minutes.
Place pulled chicken mixture onto kaiser rolls. Top with crumbled blue cheese and place in the oven to toast.
Serve and enjoy