Would you eat something that comes from a cactus and has spikes all over it? For the adventurous eater, the Prickly Pear has some surprises!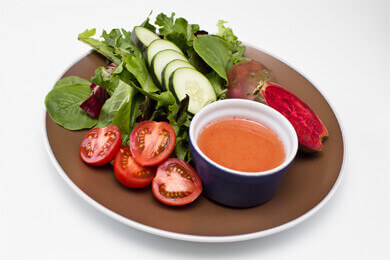 Ingredients:
2 Prickly Pears
1/2 Cup Cider Vinegar
2 Cups Oil
1 Tsp Salt
1 tbsp Sugar
Method:
To get to the fruit part of the fruit, cut the ends off of the pear and score lengthwise down the side. With your fingers, peel back the thick peel to access the fruit.
There are seeds inside, and to get them out, place the fruit in a food processor or blender and blend until liquefied. Pour out over a strainer to stain out the seeds.
Place the juice into said food processor or blender and add the vinegar. While blending, add the oil slowly. Then add the salt and sugar.
Place in a container to refrigerate for later, or wow your family right away with this unique salad dressing!