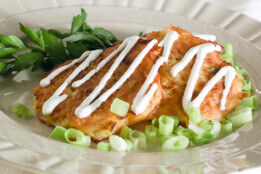 Ingredients:
About 1 1/2 Pounds Shredded Potatoes
4 Eggs lightly beaten
1 Cup Milk
2 Tbsp Salt
1 Tsp Powdered Garlic
1/4 tsp Black Pepper
2-3 Scallions Chopped
1 Cup of Flour
Oil
Method:
Combine all ingredients until mixed well. Heat enough oil to cover the bottom of a large skillet. Spoon out the pancakes into the skillet. Should be about 3-4 inches in diameter. Cook for 2-3 minutes until golden brown. Flip over and cook for another 2-3 minutes until golden brown and fully cooked. Remove and drain on a paper towel. Serve with Sour Cream and/or apple sauce. Makes about 18 cakes.