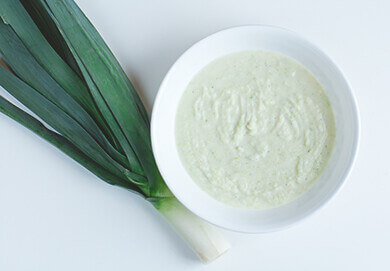 Ingredients:
1 Leek, Trimmed
1 Stalk of Celery
2 Cloves of Garlic
2 Tbsp Butter
1 tsp Salt
1/2 Tsp Black pepper
2 Cups Chicken Stock
1 Cup Milk
20 Oz Refrigerated mashed potatoes
Method:
Slice the leek lengthwise, Then slice thin half moons. Mince the celery and garlic. In a pot, melt the butter and add the leek, celery, garlic, and salt and pepper. Sautee for about 10 minutes, stirring often. Add chicken stock and boil for 5 minutes. Add milk and bring to a simmer.
In a large food processor, or blender, add the potatoes. Pour mixture from the pot over the potatoes and puree until smooth. Refrigerate for 4 hours. Serve and enjoy!