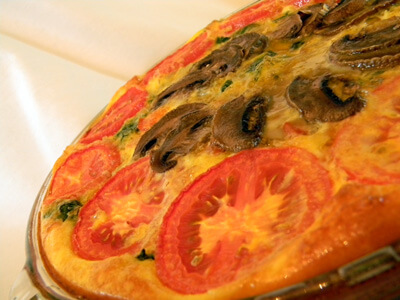 Ingredients:
2 Idaho Russet potatoes
1 Stick of butter cut in half
2 Tsp Salt
2 Cups Baby Spinach
½ Red Pepper
¼ onion
2 White Mushrooms
4 ounces of Cheddar Cheese (Sharp)
2 Roma (plum) Tomatoes
½ tsp Fresh cracked pepper
8 Eggs
1 Cup of milk
Method:
Wash and scrub potatoes but leave the skin on. Melt butter ½ a stick of butter in a large pan. Shred potatoes with a box grater using the side with the biggest holes. Spray a 9 inch pie pan. Combine butter, shredded potatoes and salt. Press potato mixture into pie pan. Bake at 400 degrees for about half an hour or until potatoes start to crisp. Remove from oven
Dice peppers and onions, slice mushrooms and tomatoes and shred the cheese using a clean box grater (with the biggest holes)
Top potatoes with the about ¾ of the cheese leaving some for the top later. In the same large pan used before for the butter, melt the rest of the butter and cook the peppers and onions for about 4 minutes on medium heat. Add the spinach and cook for another minute while stirring, add pepper. Add this mixture on top of the potatoes and cheese.
Crack the eggs and scramble. Add milk and mix together. Pour into pie pan gently. Top with tomatoes and mushrooms. Bake at 350 degrees for about 45 minutes until eggs are cooked through. Let the quiche rest outside of the oven for about 5 minutes and cut. Top with remaining cheddar and serve! Serves 6.