Ingredients: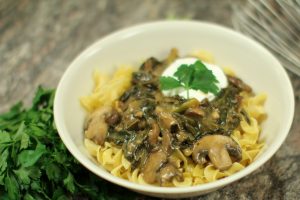 1 Bunch Collard Greens or Kale
1 Medium Onion, Thinly Sliced
5 Garlic Cloves, Minced
Olive Oil
1 Cup White Wine (optional) or water
1 Tbsp Salt
1 Pound Sliced Portobello
2 Tbsp Butter
1/4 Cup Flour
1/2 Tsp Smoked Paprika
1/4 Tsp Black Pepper
2 Cups Vegetable Stock
12 oz Wide Egg Noodles
Sour Cream
Method:
In a large, heavy bottomed pan, heat the olive oil over high heat and add in the greens, onions and garlic. Season with salt and stir often until onions are turning brown, about 10 minutes. Add in wine or water and reduce to low heat to simmer. Cook until all the liquid is gone, stirring often so it doesn't burn. Add in the butter and mushrooms and sautee for 5 minutes. Sprinkle mixture with the flour and seasonings and stir together until all the flour is mixed in. Cook on low for 2 minutes and add in the stock. Stir to combine and simmer for another 10 minutes. Should be a thick mixture, like gravy. Add a little more stock if neccessary.
Cook egg noodles al dente and top with the mushroom mixture. Top with sour cream.
Serve and enjoy!