Pork Schnitzel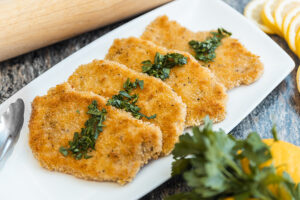 Ingredients:
1 Pound Thin Sliced Boneless  Pork Chops (about quarter inch thick)
1 1/2 Cups Flour
Salt and Pepper
4 Eggs
2 Cups Bread Crumbs, Plain
1/2 Tsp Paprika
1/2 Tsp Cloves
1/2 Tsp Garlic Powder
Olive Oil
Fresh lemons, Wedged
Fresh parsley, Minced
Method:
Tenderize the pork chops with a meat mallet or a rolling pin- for a cleaner method, place the chops in a freezer bag or in between two layers of cling film.
Place flour in one shallow bowl and add salt and pepper
Whisk together the eggs in a second bowl
In the third add the bread crumbs, paprika, cloves and garlic- I used panko bread crumbs and tossed them in the food processor for a few seconds.
In a large skillet, heat enough oil to coat the bottom of the pan over medium high heat. Make sure not to smoke the oil. Dredge the chops in the flour and then the eggs. Shake off any excess and then coat in the crumbs. You may have to work in batches. Place the chops in the pan and cook until golden brown (3-5 minutes) and flip. Once fully cooked, drain any excess oil from the chops. Serve with fresh parsley and squeeze lemon juice on just before enjoying!