A new dinner idea, perfect for those cold snowy nights!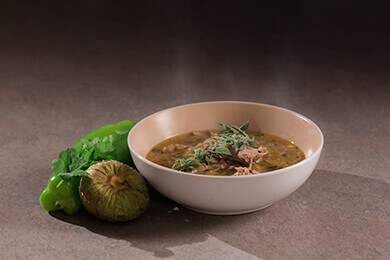 Ingredients:
Approx 2 Pounds Pork Tenderloin
Salt, Pepper, Cumin
1 Medium Onion Diced
1 Cubanelle Pepper Diced
3-4 Garlic Cloves Minced
1 Cup Chopped Tomatillos
6 Cups Chicken Stock
2 4oz cans of Diced Green Chiles
1 Tsp Chili Powder
1 Tsp fresh Cilantro Chopped
1 Tsp Fresh Oregano Chopped
Methods:
Season the tenderloin with salt, pepper and cumin to taste. Brown on all sides in a large pot. Remove pork from the pot. Add in onions, peppers, garlic and tomatillos. Sautee for about 5-8 minutes until tender. Add back in the pork along with the diced chiles, chicken stock and chili power. Let simmer and reduce heat. Continue to simmer for about 2 hours or transfer to a slow cooker on low. Once meat is tender, shred the meat but leave large chunks too. Add in the herbs. Stir and serve!