Pork Carnitas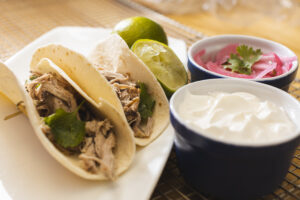 Ingredients:
6-8 Pounds Pork Shoulder or Picnic
2 Tbsp Salt
1 tsp Pepper
1 Tsp Garlic
1 tsp Chili Powder
1 Tbsp Cumin
3 Cups Chicken Stock
2 Limes
Cilantro to taste
For the Pickled Onions
1 Cup White vinegar
1 Cup Sugar
Juice and zest of one lime
1 Tbsp Fresh Cilantro
2 Medium Red Onions Sliced very Thin
Method:
Combine all the seasonings in a small bowl. Pat dry the pork and rub it entirely with the spices. Sear off in a large pot on all sides.
Transfer the meat to a large crock pot or roaster. Add chicken stock. Cook on low for 8 hours.
Drain the liquid off and shred the pork, removing any bones or fat. Place the meat on a large sheet pan and sprinkle with lime juice and cilantro.
Bake at 350 degrees for about 15-20 minutes. Add a little more lime and cilantro if wanted. Serve with your favorite toppings!
Speaking of toppings, for the onions, place the vinegar and sugar in a small pot and bring to a simmer. Add in the onions and remove from the heat, stir.
Add in the lime and cilantro. Serve at room temp!