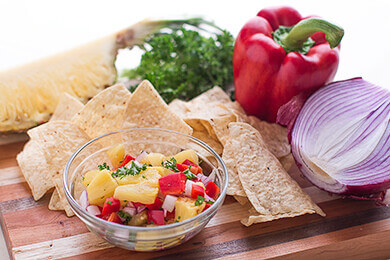 A sweet addition to your salsa repertoire!
Ingredients:
1 Large ripe pineapple
1/2 a medium red onion diced
1 red pepper diced
2 Tbsp fresh parsley (or cilantro!)
1 Tbsp Honey
Method:
Remove rind and core from the pineapple. Roast or grill until the outside is golden brown. Dice the pineapple and toss with the remainder of the ingredients.
Try it with all sorts of stuff! Chicken, salmon, chips!