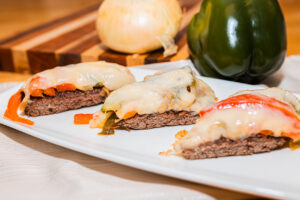 Ingredients:
2 Pounds Cubed Beef Steak
1 Tbsp Worcestershire Sauce
1 Tbsp Montreal Steak Seasoning
2 Tbsp Olive Oil
2 Bell Peppers, Sliced
1 Sweet Onion, Sliced
Salt and Pepper
Provolone Cheese
Method:
Sprinkle the meat with seasoning and Worcestershire sauce. Set aside.
In a large skillet, heat the olive oil and sautee the peppers and onions until tender, season with salt and pepper. Remove the veggies and sear the meat on both sides. Place the meat on a cooking tray and bake at 350 degrees until cooked. top with peppers and onions and cheese. Put back in the oven until cheese is melted.
Serve and enjoy!