Ingredients: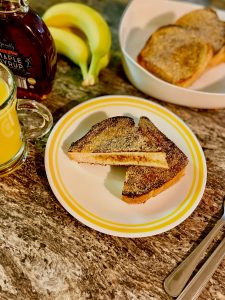 1 Loaf unsliced bread
8 oz Cream Cheese Softened
1 Cup Peanut Butter
1 Cup Powdered Sugar
2 Tbsp Vanilla
4 Eggs
1 Pint Heavy Cream
1 Tbsp Cinnamon
Butter
1/4 Cup Sugar
2 Tbsp Cinnamon
Method:
Slice the bread about 1″ thick. Insert a small knife in the center of each slice from the bottom, creating a pocket.
Using an electric mixer, combine the cream cheese and peanut butter. Cream until smooth, scraping down the sides of the bowl. Add in the sugar and vanilla and beat until smooth. Scoop into a pastry bag or just a ziploc bag. Pipe in the mixture into each slice.
In a large bowl, whisk together the eggs and cream and vanilla until combined. Dip each slice into the batter.
Heat a large pan and melt butter. Working in batches, cook the french toast until golden brown all the way around each slice.
Combine sugar and cinnamon and sprinkle over each slice, top and bottom as they come out of the pan.
Serve and enjoy!