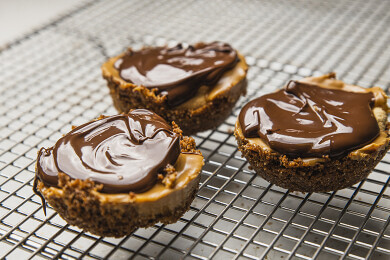 Ingredients:
1 Sleeve Graham Crackers ( 4.8 oz) Crushed fine
1/2 Stick Butter Melted
1/4 Cup Sugar
10 Regular Marshmallows
1 Cup Peanut Butter
1 Cup Chocolate Chips
Method:
Combine crackers, butter and sugar. Press into muffin tins and bake at 375 degrees for 15 minutes.
Place a marshmallow in each cup and toast in the oven until golden brown
Remove from the oven. Melt the peanut butter in the microwave. Pour over each marshmallow and allow to set in the fridge for about half an hour.
Melt chocolate and pour over the top of each one.
Serve and enjoy!