Ingredients: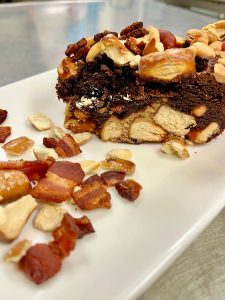 1 Pound Bag Pretzel Nuggets, Crushed
1 Pound Thick Sliced Bacon, Chopped, Cooked Crispy
1 Cup Whole Peanuts
Bottom Layer-
1 Cup Unsalted Butter, Melted
2 Cups Light Brown Sugar, Packed
2 Eggs
2 Tsp Vanilla
1 3/4 Cups Flour
1/2 Tsp Baking Powder
1 Cup Peanut Butter
Top Layer-
2 1/2 Cups Granulated Sugar
10 Tbsp Unsalted Butter, Melted
4 Large Eggs Plus 2 Yolks
1 Tbsp Vanilla
1 1/2 cups Unsweetened Cocoa Powder
2/3 Cup Vegetable Oil
1 Cup Flour
1/4 Tsp Baking Soda
2 Tbsp Cornstarch
Spray a 9×13 pan with cooking spray. Cover the bottom with about half of the pretzel pieces.
In a large mixing bowl, mix together the butter and brown sugar form the first layer. Once combined, add in the eggs and vanilla. Stir. With a spatula, fold in the flour and baking powder and peanut butter. Spread over the pretzel pieces in the pan the best you can. Top with about half of the bacon and peanuts.
In another large bowl, mix the sugar and butter together for the top layer. Add in eggs, vanilla, cocoa and oil. Once mixed, fold in the flour, baking soda and cornstarch just until combined. Pour into the pan and top with remainder of the bacon, nuts and pretzels. Press the top crumble into the top layer slightly.
Bake at 325 for 45-50 minutes. There should be a little jiggle to the pan, but not much. Allow to cool completely.
Serve and enjoy!