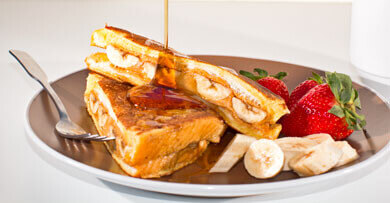 Ingredients:
4 Slices of Texas Toast Bread, or very thick sliced bread
3 bananas sliced length-wise
Peanutbutter
Pan Spray
6 Eggs
1/3 Cup Milk
1 Tsp Cinnamon
1 Tsp Vanilla

Method.
Spread the peanut butter thick on 4 slices of bread. Arrange banana on two of the slices and close the sandwich. Press down on the sandwiches to seal it in!
In a large bowl, whisk together milk, eggs, vanilla and cinnamon. Dip the entire sandwiches in the egg mixture. Toast on each side with a hot pan sprayed with pan spray (or Butter). Once fully cooked, remove and slice. Serve with maple syrup!