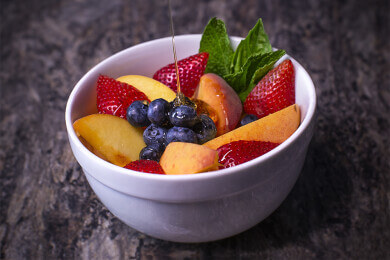 Ingredients:
4 Ripe Peaches
1 Pint Strawberries
1 Pint Blueberries
1/2 Cantaloupe or Honeydew
1/2 Tbsp Chopped Fresh Mint
1/2 Tbsp Fresh Chopped Basil
3-4 Tbsp Honey
Method:
Cut up all the fruit (except for the blueberries) and place them in a large bowl. Toss with the mint and basil and honey to coat. Serve and enjoy!!