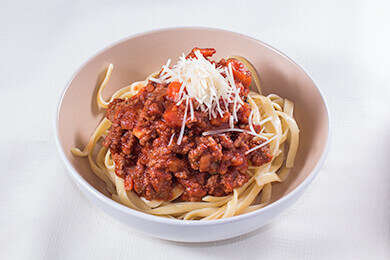 Ingredients:
2 Pounds Ground Beef
1/2 Onion Diced
2-3 Carrots Diced
1 Rib Celery Diced
4 Garlic Cloves Minced
1 Tbsp Chopped basil
1 Tsp Salt
1 Tablespoon Balsamic Vinegar
2 Cups Beef Stock
6oz Jar Tomato Paste
28 oz Can Crushed Tomato
1 Bay Leaf
Salt and Pepper to taste
1 Pound Fettuccine Cooked and Drained
Method:
In a large pot, combine beef, veggies and salt. Cook on high, stirring often, until beef is fully cooked. Drain beef and return to pot. Add balsamic, cook for 1 minute. Add stock and tomatoes. Add bay leaf and salt and pepper. Allow to simmer for at least an hour.
Serve over fettuccine or some other wide and thick pasta.
Enjoy!