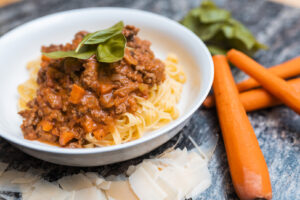 Ingredients:
1 Medium Spanish Onion, Diced Small
5 Cloves of Garlic Minced
1 Tbsp Olive Oil
1 Tbsp Salt
2 Tbsp Fresh Chopped Basil
4-5 Carrots, Diced Small
1 Rib of Celery Diced Small
1 Pound Lean Ground Beef
1 Pound Sweet Italian Sausage
1 10oz can Beef Consomme
1 Cup White Cooking Wine (optional)
1 6oz Can Tomato Paste
1 28oz Can Crushed Tomatoes
1 Tbsp Dried Oregano
1/2 Tsp Black Pepper
1/2 Cup Heavy Cream
Method:
In a heavy bottomed pot, cook the onions, garlic, oil and salt together over high heat for 2-3 minutes stirring often. Add in the basil and stir. Add in the rest of the veggies and the meat. Cook until the meat is brown. Add in the consomme and wine if using to de-glaze the pan. Reduce heat to low. Add in the rest of the ingredients and bring to a simmer. Cover and simmer for 3-4 hours, stirring every once in a while.
Cook 1 pound of pasta according to the directions. Serve with the sauce (and some cheese and crusty bread). Enjoy!