Parmesan Steak and Potatoes Sheet Pan Supper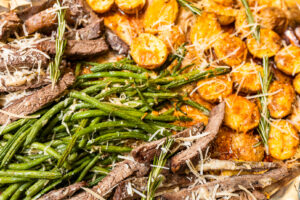 Ingredients:
1 1/2 pounds Thinly Sliced Top Round Steak
1 Pound Baby Potatoes
1/2 Cup Olive Oil
3-4 Cloves of Garlic
1 Tbsp Salt
1 tsp Black Pepper
1 Tsp Garlic Powder
8oz Fresh Green Beans Snipped
1/2 Cup Freshly Grated Parmesan
Method:
In a large bowl, combine the oil and spices. Cut the potatoes in half and toss them in the oil. Drain the potatoes and place any oil back in the bowl. Spray a sheet pan and arrange the potatoes on the pan. Bake at 350 degrees for 10 minutes.
Add the steak and garlic to the oil mixture and coat. Place the steak on the sheet tray. Turn the potatoes. Place back in the oven and bake for another 20 minutes. Toss the green beans in the same oil and place on the sheet pan. Top everything with parm and bake for another 10 minutes.
Cut up the steak, serve and enjoy!