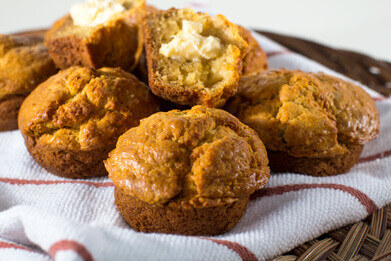 Ingredients:
2 Cups all purpose flour
1/4 Cup Granulated Sugar
1 tsp Baking Powder
1/2 tsp Baking Soda
1/4 tsp salt
1 tsp honey
1 tsp vanilla
2 Eggs
2 Cups heavy cream
1/2 cup cutter melted and cooled slightly
Pan Spray
another 1/2 Cup Butter Softened
1/3 Cup Maple Syrup
Method:
Mix together the flour, baking powder and soda and salt. Set aside. In a separate bowl, whisk together the eggs, cream, vanilla, honey and butter. Add the flour mixture to the cream mixture and combine until just mixed. Spoon into 12 muffin cups and bake at 350 degrees for 30-40 minutes. Check with a tester to make sure they are baked all the way through.
Combine the butter and syrup and serve with the muffins!