Bold Mediterranean flavors! Great for entertaining, a vegetarian dish or just to mix things up!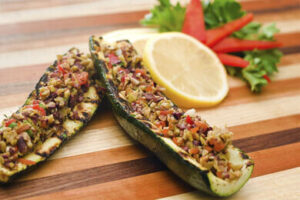 Ingredients:
6-8 Medium Zucchini
2 Cups Pitted Green Olives Drained
1 Cup Pitted Kalamata Olives Drained
3-4 Cloves of Garlic
1/2 a Red pepper Seeded
2 Sprigs Italian Parsley
Juice from 1/2 a Lemon
Virgin Olive Oil
Salt and Pepper
Method:
Half the zucchinis lengthwise. With a spoon, hollow out the seeds making a trough down the center of the zucchini. Reserve.
In a food processor, pulse together the pepper and garlic until roughly chopped. Pulse the olives, parsley and lemon until combined. DO NOT MUSH!!!!
Add olive oil and salt and pepper to taste. Reserve at room temperature if using right away. If you don't have a food processor, chop all ingredients until minced.
Brush the zucchini with olive oil and season with salt and pepper. On a HOT grill, grill cut side down for 2-3 minutes, turning once so they don't burn. Turn over and cook for another 3-4 minutes skin side down. Remove from heat when just starting to trun tender. Fill the cavity with the olive mixture. Garnish with parsley and lemons.